SITLOSOPHY® has chosen to make a concrete commitment to sustainability by choosing to certify some of its products with the FSC® label, considered the most credible forest certification standard and supported by the world's leading environmental and national associations.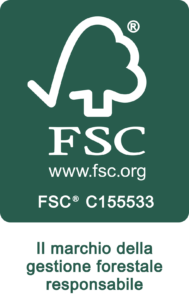 FSC® is a forest resource management certificate for chain of custody products. Once issued, the FSC® certificate proves that the wood parts of certified products can be traced back to:
sustainably managed forests;
controlled sources;
recycled materials.
The FSC® certification scheme is independent and in order to obtain FSC certification, it is necessary to implement an effective environmental management system that complies with the requirements of the standard. Chain of Custody (CoC) certification, in particular, guarantees the traceability of materials from FSC-certified forests and is indispensable for applying FSC labels on products.
Requesting, choosing and purchasing FSC® -certified products therefore means contributing directly to the growth of an ethical, responsible and virtuous system.
In 2019, FSC Italia set up a competition to reward organisations, companies and products that help promote the FSC label and recognise the commitment of FSC-certified companies to produce products using FSC-certified wood. Sitlosophy®, represented by Elleci Office srl, was awarded as the best company operating in community furniture. A result achieved thanks to the deep daily commitment in the management of the chain of custody and therefore in the selection of suppliers and materials.
Watch the video to learn more about FSC Italia through the words of its director Diego Florian, guest of Sitlosophy at Salone del Mobile.